Choose The Service You Want More Information On:
Pest Control
Dealing with pests can be a huge hassle. Whether it is roaches, ants, fleas, spiders or wasps, these creatures have ways of taking over our homes and businesses. Find out more information on how we can help you evict these insects for good!
Wildlife Removal
 In the state of Florida, there are various wildlife critters such as rats, squirrels and racoons that often invade structures where they are not wanted. We can help you keep your property safe while also ensuring that these critters remain in their own habitats.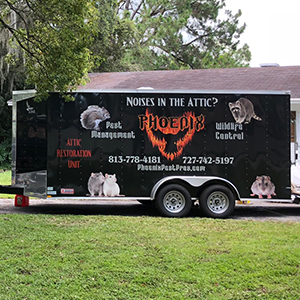 Restoration Services
Sometimes when animals get into our businesses or homes, they tend to cause a lot of damage. From animal proofing your home to complete attic restoration, we will make it look as good as new while also helping protect the structure from future visitors!
We use the best products, so you get the best results!

Eco-friendly, low-risk pesticides. Safe for kids and pests! Green products available!

Permanent materials used for a life time of protection!
Our technicians are well-trained and trustworthy inspectors.

Customer Satisfaction is our #1 priority, we want to build a life-long relationship by exceeding your expectations!

Best warranties in the business, we guarantee all of our extermination and exclusion services!
We service all of Pinellas, Pasco, Hillsborough & Hernando counties and have done so since 1998!
Tampa Bays most trusted pest control company!
We are here to help!
Call today for a FREE estimate.
You'll Feel Happier Living A Pest-Free Life
Seeing animals out in their own habitats is an amazing experience, however it's a lot different when they cross their boundaries into our own private properties.
After the pests are eliminated, you'll finally be able to take a breath of fresh air, relax your tensions and feel better knowing that you and your family finally have your house or business back.
If you need our guidance, we guarantee that you will know the ins and outs of how to protect yourself and your family from any other future intruders, and you'll finally live a pest-free life.
Simple Pest Control Tarpon Springs Process